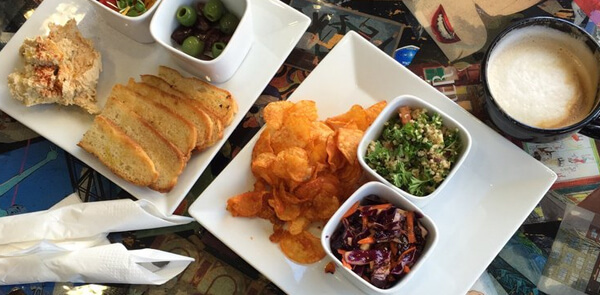 Scuppernong Books
304 S Elm St, Greensboro, NC 27401 -- (336)763-1919
Scuppernong Books is a fantastic, beloved local book store with a great selection of reads, from classic literature to autobiographies to non fiction to comic books to teen fiction and beyond. However, they're not just your regular, every day run of the mill book store, they also feature a great, simple menu of amazing items for you to snack on for breakfast or lunch while you are enjoying reading your book. They also feature delicious, locally sourced drip coffee to enjoy, as well as an amazing, huge selection of wines and beers for you to indulge in. Like we said, this is not like any book store you've ever been to, but it will surely become your go to book store!
Vito's Italian Restaurant
2258 Golden Gate Dr, Greensboro, NC 27405 -- (336)370-0084
If you are in the mood for some great, authentic Italian food then you need look no further than Vito's Italian Restaurant on Golden Gate Drive. They have all of your traditional Italian favorites and then some, with home made Italian pasta that will blow you away, crisp salads, and delicious pizzas and sandwiches that are all made with fresh ingredients, Vito's Italian Restaurant may very well become your favorite restaurant in all of the Edgeville area. You will be more than happy to indulge in their great daily specials, such as their 2 Pasta Dishes for only $16! That makes date night both delicious and inexpensive!
Taste of Thai
1500 Mill St Ste 101, Greensboro, NC 27407 -- (336)273-1318
When you're in the mood for some delicious, authentic Thai food then Taste of Thai is the best place to go in the Edgeville area. They feature all sorts of amazing Thai dishes, including your favorites like Yellow Curry dishes, Pad Thai, Pad See Eew, and beyond. Their appetizers are simply to die for, and we strongly recommend the spring rolls and the Tofu Tod dishes. Their servers are always extremely friendly and will make you feel welcome without any problem at all. The atmopshere is extremely vibrant and clean, and you will have no problem feeling right at home when you head to Taste of Thai for a meal.
Calypso Mama
1600 B Phillips Ave, Greensboro, NC 27405 -- (336)617-6013
Calypso Mama is a relatively new establishment in the Edgeville area, but they have quickly established themselves as a staple in the area because of how fantastic they are. They serve up great Caribbenan cuisine such as Curry Chicken, Jerk Chicken, Jerk Ribs, Indies stew, Roti Wraps, and beyond. Don't forget to head in there on the weekend to dig into their seafood dishes such as the Peppa Shrimp and the Fish Curry! Everything here is simply amazing and created with all fresh ingredients every time.