Isabella's Pizza
5309 Liberty Rd, Greensboro, NC 27406 -- (336)674-0060
When in the mood for pizza that's authentic and fresh, fresh then Isabella's Pizza on Liberty Road is always a fantastic option. They feature some of the best [pizza that you will ever get your hands on, and they always feature fresh ingredients that are simply great. They feature amazing sauces and doughs that have been made with fresh ingredients each and every day. They have a charming dining area, making it a comfortable place as well as a perfect place to take the family out for a meal. Isabella's Pizza is undoubtedly the area's most popular pizza joint so don't miss out!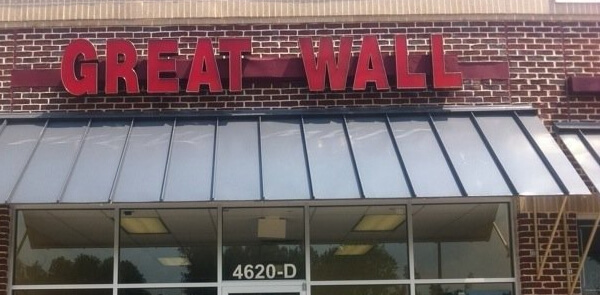 Great Wall
4620 Woody Mill Road, Greensboro, NC 27406 -- (336)674-0016
If you're craving the taste of Chinese food when you are in the Forest Oaks area then Great Wall on Woody Mill Road is definitely the place for you to go to. As you would expect from a Chinese restaurant, you can come here and enjoy classic Chinese food, including popular dishes like almond boneless chicken, spicy hunan chicken, shrimp fried rice, and beyond. They have servers who always treat people with a great amount of respect, and the dining area is always a nice place to go. Great Wall is always a great place to go when you are in the mood for some amazing Chinese food, without a doubt.
Spring Valley Restaurant
421 W Meadowview Rd, Greensboro, NC 27406 -- (336)274-1906
If you're looking for some simple, and yet delicious American cuisine then Spring Valley Restaurant is the best place to go in the Forest Oaks area. They have amazing breakfasts, lunches, and dinners. For breakfast, you can't go wrong with their delicious biscuits and gravy, and their omelettes are all fluffy and generously portioned. For lunch, we strongly recommend that you dig into their Club Sandwich or their Hot Turkey Sandwich which is smothered in gravy. For dinner, we strongly recommend that you grab the fried chicken, as it is prepared to absolute perfection.
The Green Bean
341 S Elm St, Greensboro, NC 27401 -- (336)691-9990
There are no better places to get your morning started off on the right foot than The Green Bean on South Elm Street. They feature amazing, locally roasted coffee drinks and in all sorts of varieties and flavors. The Green Bean is always a wonderful option and you will find a something delicious on the menu that you'll love! And we're confident you'll love the friendly service here, too! Everything about this place will make you happy. We strongly recommend their lattes, which are always executed to perfection. They also feature amazing pastries and baked goods for you to dig into. The Green Bean is a wonderful place to hang out at.